Join Peter Kujawa, VP of Service Leadership and TSP Evangelist, as he reviews the operational maturity trait driving technology standards.
Peter will discuss the relationship between setting and enforcing technology standards and best-in-class profitability. He will share how top performing MSPs accelerate sales and improve customer satisfaction by narrowing the range of products they will install and support.
We'll cover:
Foundational OML Trait Progression Refresher

Technology Standards - What it is and why its so important

Impact on Staffing Cost

Implementing your Technology Standards

Maintaining your Tech Stack during Supply Chain Issues
*If you haven't watched the prior webinars in this series, make sure to check them out on our webinars page as they all tie in together for success.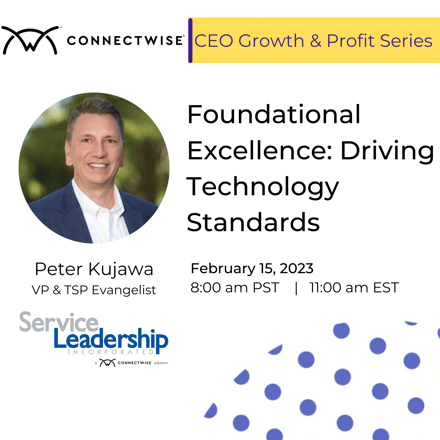 Join the ConnectWise virtual community: https://virtualcommunity.connectwise.com/