Hear from other customers as they share how they use BrightGauge to set their team up for success.
In this edition, Jon Witcombe of Netitude shares how he has set up his dashboards and goal lists to game service management.
We covered:
Being reactive and proactive in service

Multi-layered gauges

Three dashboards to keep your team on track

Live Q&A
Fill out the form to watch the live webinar hosted on Tuesday, December 18th at 10am EST / 3pm GMT.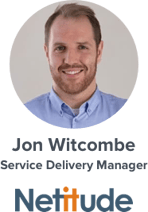 Netitude Limited's Jon Witcombe has worked in IT for 3 years and has the wonderful ability of not being an IT Engineer. This allows Jon to ask the question "How are we going to fix it" with his dedicated team of engineers. Coming from a background of customer service and call enter management Jon uses his skills to manage a diverse team of technical people to offer a care driven and fast paced IT Support service.